Podchats
These are episodes where we talk about games instead of playing them. Most of our podchats are recorded alongside a Bonus Feat or Mini-Campaign, but not all.
01: GM-less Games, Cooperation, and "Cooperation"
Recorded alongside Fiasco.
We're joined by special guest James D'Amato of One Shot to discuss tabletop games with no GM, DM, storyteller, or referee.
Recorded alongside Inverse World.
Mikan and Gnome, writers of the Inverse World expansion for Dungeon World, join the crew to discuss how Inverse World and other games break free of standard fantasy tropes.
05: Diceless and Non-Standard Conflict Resolution
Recorded alongside Law's Out.
We discuss our favorite diceless games, and just what makes them so well-suited to narrative play.
07: Designing From Influences
Recorded alongside Strike!
Strike! is an RPG that refines D&D, Mouse Guard, 13th Age and more down to a simple, fast formula. We discuss the process of designing from your influences with Strike! creator Jim McGarva.
09: Risk/Reward Mechanics
Recorded alongside Last Stand.
Risk and reward appear organically in all sorts of games, but are rarely designed as a core part of the role playing experience.
Recorded alongside Goblin Quest.
Goblin Quest designer Grant Howitt joins us to discuss how comedy can be accounted and designed for in roleplaying games.
Recorded alongside Danger Patrol.
Tension is difficult to balance, and for a pre-written story, is carefully adjusted with cues for danger and story-based investment. It becomes far dicier when tension is incorporated into a game where the story is "written" as it is played.
17: Diversity, Representation, & Inclusiveness In Games
Recorded alongside Ehdrigohr.
Ironicus and Ikks of Six Feats Under are joined by Keith Carberry, Ali West, and Austin Walker of Friends at the Table to discuss a pressing issue in the modern day.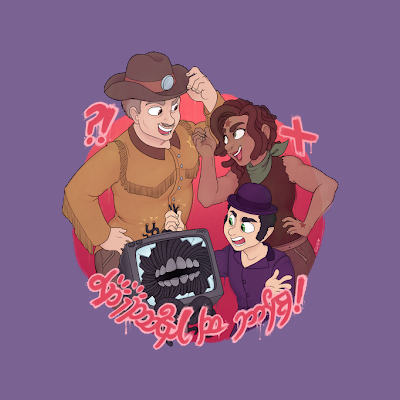 Recorded alongside Urban Shadows.
Blurry Photos and Six Feats Under join hands to discuss those inhuman favorites of humans everywhere: monsters.
21: Horror In Tabletop Games
Recorded alongside Bluebeard's Bride, which was not recorded as a Bonus Feat.
Grant and Sarah Richardson sit down to talk about horror in gaming, and how it differs from horror in any other medium you might care to name.